This week we talked about Violent Weather. We looked at pictures of tornadoes and hurricanes and I read them the books Super Storms by Seymour Simon (really good author for fantastic photographs he takes) and Wicked Weather by Mark Shulman; a book from the Discovery Channel's Worlds of Weather. We talked about Wind speeds, droughts, dust storms, sandstorms, hail, and violent storms like Hurricanes and Tornadoes and some of the damage in pictures that they have done.
I taught the kids that hurricanes are formed over the oceans and Tornadoes are formed over the flat lands. But both can cause tons of damage. We talked about the Earthquake in Japan and some of the flooding damage caused by the Tsunami and how hurricanes can also cause this same kind of damage with winds causing high waves. We read the Weekly Reader on Tornadoes and Hurricanes.
We looked at lots of really amazing pictures of devastation caused by Hurricane Katrina. I told the students how all Hurricanes are given a name. They thought that was funny. They talked about what they would name a hurricane. (LOL) Then we looked at tornado damages over farmhouses and cars that were picked up and moved to other places and lots of smashed in buildings.

Hurricanes are violent storms…
I told them about the tornado that came through Salt Lake City one afternoon while I was teaching and it caused a HUGE loud rumble on our roofs. We were all kind of shook up at the time, but it wasn't a bad one and not to worry because Utah hardly ever gets them. I think all those Rocky Mountains keep them from forming for the most part. I gave them all a puzzle to cut out and put together in the shapes of the 3 kinds of violent storms. Here's what they looked like all finished…..

Our Super Storms on the board outside….We added rain poetry on top later….
 A fun Fun Weather Game Interactive Link can be found HERE. The site is ETE's K4 Earth Science.
WIND and WEATHER Cinquain POETRY
I love to do cinquain poems for one of the days of our weather unit. Some years I do it on weather words and kids have their choice of Tornado, Hurricane, Storm, Wind, Hail, Rain, or Snow. Then they follow this pattern; 1 word, 2 words, 3 words, (4 words & 3 words optional) 2 words, 1 word. A link to the directions for a diamante poem is HERE from Teacher Guided Activities. Diamonte poems are longer than Cinquains but both have similar characteristics.
Cinquain Poetry…
Most of the kids end their poem with a synonym of the first word or else just "WEATHER". Then I type them tall up after school in a diamond shape and cut them out on the paper cutter.
KITE ART
For art the kids paste their finished poems on "kite" shaped butcher paper in pastel rainbow colors to go with Spring. Then we decorate the back with squares of tissue paper "glued" down with a solution of half water half white school glue using the same colors but more vibrant (instead of light purple, deep purple etc.). Then we add a "tail" with crepe paper and small crepe paper bows all down the "tail".
Here is what the Spring "weather kites" look like. It's always great to mix writing workshop with art. I'll put more pictures up as soon as we are all done with everything.
The tails and bows attached were done with rolled crepe paper
SCIENCE – wind instruments
Then we made our own wind instruments to show the direction the wind is blowing. We made pinwheels. A link for the black line is HERE. There is also a set of directions on how to make a pinwheel for first graders on the Jan Brett website. Her website link is HERE. I linked the wind power invention of windmills with this book by Gretchen Woelfle called Katje the Windmill Cat. I showed them some Internet pictures of windmills and how they can give us cheap power. Then we made our own mini windmills called pinwheels.
How to Make a Pinwheel…
Pinwheels on a Pencil! Super Easy!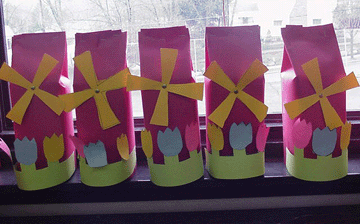 You could also make windmills out of quart sized milk cartons and windmill brads. This pic is from Little Giraffes website
The kids used markers and made some designs like squiggles, dots, hearts and curly Qs like snails on their brightly colored paper squares. Then they punched little holes in the corners with a hole puncher. Then they cut into each diagonal corner just about an inch from the middle down to the ends. Then they folded each corner over the middle and we used a pin to poke it into a pencil eraser that was old and flat on the top. Or you could use new pencils…but it's a good way to use up your flattened eraser pencils….uh huh…..
Making a pinwheel from a square of paper, a pencil and a pin…
Then the real fun began. We all went outside right before school let out and ran around facing the wind with them and watching them twirl. It sure was fun! I actually forgot to tell them to look for the wind's direction, but maybe they did it anyway? Probably not. But the other students who came out when the bell rang thought it was a cool experiment in weather. We did too! Now maybe next time I'll remember the camera. :O