I'm adding a new center to my first grade classroom this week. I know kids love to manipulate flannel and I have made or found a few cute little poems with darling things to go with the poems.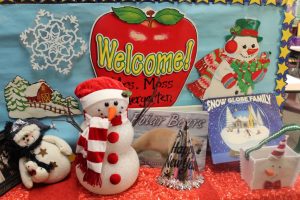 January Poems of the Week and Flannel Board Finger Plays.
I will introduce Poems of the Week at our rug time and I'll teach them to a familiar tune. Then after all the kids have learned the tune and poem I will place them that week at the Poems & Flannel Board center. I will have flannel things to manipulate along with each poem.
Make a Snowman by adding the parts and pieces.
Here are my 4 poems for January:
JANUARY POEM (Tune: Itsy Bitsy Spider)
The month of January is finally here to stay.
We stay up late at night, to ring in New Year's Day.
The snowflakes fall in the middle of the night.
And when we all wake up, the whole wide world is white.
Our class will set new goals to get better at some things
Like sight words and math facts and new songs to sing
But the best part is skating or sledding in the snow
So grab your coats and hats, and away we all will GO!
I will have snowflakes, skates, sleds, snow hats and Snowmen in flannel.
Snowman face parts and scarfs and hats to add.
SNOWMEN in the WIND
Five little snowmen big and fat
The first one had one big black hat
The second one had two mittens in blue
The third one had three fingers on arms made of twig
The fourth one had four buttons on his belly so big
The fifth one had five coal bits for his grin
When all of a sudden the wind and snows begin
To blow the stuff around again and what do you suppose?
Those things landed on my snowman, so I add a carrot nose.
And all that wonderful, winter snow and ice,
Sure make my Snowman look happy and nice.
January Poems (Here is a free poem to start your Poems of the Week and Finger Plays and Flannel Board Center!)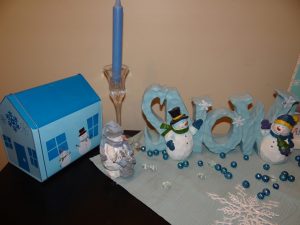 I found this cute SNOW ceramic and little tin mailbox from Hobby Lobby. So Cute!
It would be fun to cut out parts of snowmen from felt and just let the kids design snowmen to go along with the poems. The same thing with different snowflake cutouts I could make from white sparkly felt. There are also foam ones to purchase from Michaels like these here.
The last poem I got from TPT 5 Little Snowmen HERE and one on Snowflakes HERE. This pack is only $6.00 and the kids would love using them for counting too if I add some addition flashcard facts to the center.

These are really cute and I could tape a tiny sight word on a label to each one of the 24 snowflakes. Or I might check at Michaels or Joannes for similar snowflakes with a 40% off coupon and my teacher discount. Or I could go cheap and buy 2 little 33 cent sheets of white foam and punch out snowflakes at the district using die cuts.
Another fun set to choose from would be the 5 snowmen in felt that comes along with this CD of songs. I love that idea. I could use it to sing the songs and poems with the kids at the rug, and then put the snowmen and snowflakes at the center. It is $14.95. It looks super cute. And I have Amazon Prime so I could get free shipping.
The one I liked the very best was the winter scene flannel board set below. It is the most expensive at $16.00 but I think just placing it at the flannel board center with 5 poems would be a hit for the whole month. I could cover the poems with page protectors and put them in a January blue folder or small binder.
The students could sit on the rug and put pieces on the flannel board while reciting or singing the poems. They could also use little witch fingers or tiny pointers I have to point to the words together. They will LOVE this center.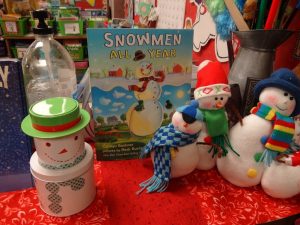 I have some cute Snowmen out of fabric and Tin and this new book Snowmen All Year set up in my classroom to start the new year.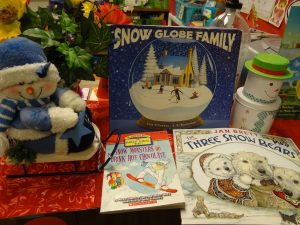 Some of my favorite books we will read this month too. Happy New Year!