Leprechauns and Pots of Gold

Hello, First Graders

I'm Lucky I am
I was here and gone

as fast as you can
I'm little and tough

and so hard to find
so don't try to catch me

just never mind!
I left you some treats

In your classroom Sooooooo,
Get busy looking for them,

Ready, set, GO!
While my students were at lunch recess, naughty little leprechauns came in and turned over some chairs and made a trail of glitter to my desk. We even saw some green glitter footprints! Did YOU get a visit from a leprechaun today?
Our WEEKLY GRAPH this week was on…..something Irish…..guess what? Of course we graphed our favorite kinds of POTATOES!!. What are yours? We chose from:
Baked Potatoes with butter
Guess Which one was the Winner?
Writing: Journals- 1. How would you catch a leprechaun? We shared with the class our great ideas. Then we shared our homework….
Leprechaun Traps! We were very inventive!
Mrs. Moss came up with the pots of gold to
"trap" a leprechaun. We only had to design the various "traps". Then we shared them with the whole school in our school library…..but we took home our pots of gold!
Here was Peter's trap…very creative "sticky path"
Leprechaun Traps Letter that went home…
Addie's trap….leprechaun falls through the hole in the "grass" oops!
Emma's trap….leprechaun climbs up the ladder, slides down the tube! Trapped!
Trace's trap….climb up the lego ladder, Uh Oh…look out!

Allie entices her leprechaun in with a FREE all you can eat buffet! Too cute!
Then when he gets inside she's gonna konk him on the head with the cloud covered box! Zowie!
Even though it said Do Not Enter, guess who entered?
Then guess who cut a hole and escaped? Prison Break! Those tricky leprechauns!
Rainbow IDEAS
Mosaic

rainbow- Children glue paper squares and cotton ball clouds on to rainbow pattern. Or have kids paint hand prints in all of the colors and in a shape of the rainbow.We also made pots of gold with rainbows attached. Or just cut out white clouds or use a white paper plate folded and add streamers in the 6 colors of the rainbow. Go out and check the wind direction by how your streamers blow.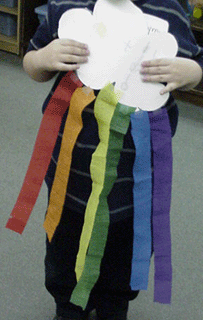 MATH BINGO
A fun "Lucky" Bingo game I found was at the
dltk WEBSITE HERE!
I also found some cute art ideas on another Teachers First website. The link is
HERE.
I made up a bunch of these on light green card stock. If we played the math side of the game I would always say, 6 tens and 3 ones for them to figure out the number. Sometimes I would say it backwards 3 ones and 6 tens. Or I would add ten to a number or subtract 10 from a number and they had to figure it out mentally. The opposite side I did Irish "word bingo". The kids can do this one again at a center, they will just choose a caller. It's super fun. They all got into it!
MATH
Another individual and fun math activity is graphing the marshmallow shapes that come in the Lucky Charms cereal. I give each student a little cup of cereal and they graph their shapes on the worksheet. A link to make a copy is HERE. It is from Tooter4kids. I added some math to the page such as add up the horseshoe and heart shapes. Or subtract the least number of shapes you have from the greatest number of shapes. The kids learn the math vocabulary better the more we use it. Are any of your shapes equal in number?
Graphing with Lucky Charms Marshmallow shapes.
Lucky Charms Math ……always fun!
We also made leprechaun wheels with math facts each child wrote down individually. Some students did multiplication facts they want to memorize, others did addition or subtraction facts. My challenge to them was to write down ones they did not already know by heart.
Math facts wheels, some of the kids did Multiplications! Woo Hoo!
SCIENCE
I love to have the kids learn about Roy G. Biv (red, orange, yellow, green, blue, indigo, violet) and the order of the rainbow colors. We look at some glass prisms on the overhead that show rainbows in a cool way. Then we make a rainbow using 1 inch by 10 inch strips of colored construction paper glued together and then glued onto the back of a black pot. We color a tiny leprechaun and I give them some shamrocks. This year I found some cute green blingy/shiny ones from Hobby Lobby, and they glued those down. Then I top the pot with some fake gold coins. Here's our finished "Pots of Gold" at the ends of the rainbows.
SCIENCE
Make some 3D "Rainbow" glasses. Use cardboard shapes of glasses. I had some I just copied onto card stock. Then give kids some red and blue permanent markers and have them color an "eye" shape that will fit over the glasses out of overhead clear acetate, 1 in blue and 1 in red. Then cut them out and tape them inside the glasses. If you need a tutorial I found one HERE. I've bought many 3D books over the years so it's fun to make these glasses on St. Patrick's Day. We ran out of time so we'll have to do them next week.
RAINBOW SCIENCE EXPERIMENT
Another fun science I do is use my beakers and do some "color change" science. A fun experiment is using a bowl of milk and dropping 2 blobs of food coloring into the bowl in 4 different colors. Then take a tiny speck of Dawn dish washing liquid on the end of a toothpick and stick it on the edge of the milk. It should show a fizzy chemical change. Then dot another far corner of the milk. Don't dot right into the food coloring.
Do it a few more times. You should have about 5 minutes of fizz in the experiment. It's really cool, easy, and cheap.
This is after about about 5 minutes and a few kids had bumped the bowl…
It will start a chemical reaction that will "fizz" the milk. It's really a cool rainbow affect. The kids want to go nuts with the toothpick but don't let them or it ruins the effect. A tiny bit goes a long way and will make the reaction last longer if you stick it in one area of the bowl each minute and then watch and wait.
St. Patrick's Day Activities
LEPRECHAUN ART
Another art I do some years is a cute leprechaun face. For beards and the hair I have the kids curl the strips of 1/2 inch construction paper around a marker so it will curl up like a Santa beard. The hat is green, then we add a 1 inch strip of black around for the ribbon and a yellow square for a buckle, and add glitter to it after school. Here is our finished bulletin boards.
We curl orange strips for beard and use orange crimped packaging for hair…
Lucky Leprechaun art….dots are stickers…
March bulletin board…. Type up some poems or songs to go on the back…
Gotta love a leprechaun with a rainbow pot of gold…..the more glitter the better!
Handprint painting for the Leprechaun parent cards…
Look Mom! Here's our hands! (prints that is…)
MUSIC
A fun song we sing is L U C K Y and it is sung just like the B I N G O Song and tune. I know a chap with a fuzzy beard and LUCKY is his name-O. (spell) Lucky, Lucky, Lucky and Lucky is his name-O. He hides his gold at the rainbow's end and Lucky is his name-O. Lucky Lucky, Lucky and Lucky is his name-O.
This would go great typed up on the back of our giant art leprechauns. I like to do art with poetry and sing or read it for shared reading time. Happy St. Patties Day to you from me!
My grand daughters in their "Lucky" shirts