It is almost Back to School time! Here is a cute project I do for Back to School Minions of Reasons to Love your Grade. I'm in first grade this year. So I'll change the little caption to read "There are MINIONS of reasons to love first grade!"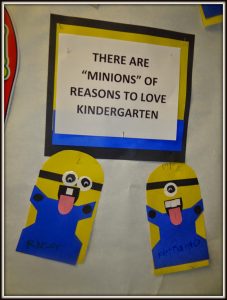 There are MINIONS of reasons to try this cute art project! It is easy if you cut out all the pieces for young children. First and Second graders could trace templates for the blue and black pieces. Kids rarely can cut a good circle so I'd use stickers or punch outs for those. I happen to have a roll of white 1 inch stickers we used for the eyes. And wiggly eyeballs inside.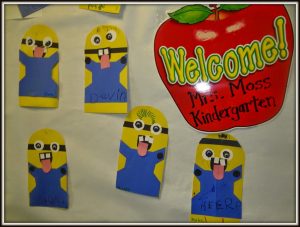 Cute little Minions art project turned out fun and funny!
I cut out the black circle eyes, the black circle buttons too. Both were about 1/2 inch circles. I cut out a bunch of white teeth about 1/2 inch squares and the kids chose how many and added them to the tongue. It consists of a black background half of an oval shape, and then the tongue is an oblong oval with a cut on one end.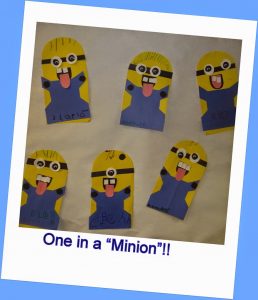 I had an idea for a cute banner too….."Mrs. Moss' class has a Minion reasons to love Kindergarten!"
I had a mom helper cut out the black eyegear strip, the tongues and the blue overalls. I cut out the yellow bodies. You could do them in different shapes like tall and skinny, short and fat. That would give you even more variety.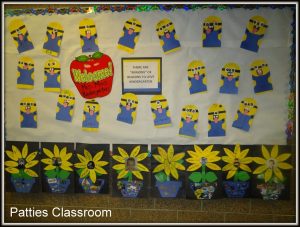 Here is our cute Back to School Minions bulletin board.
I LOVED these minions made into a bulletin board. But look at these CUPCAKES I found HERE on Pinterest! ! I have GOT. TO. MAKE.THEM!
Back to School Minion Art Project


It will be a great first day of school art project. I better get busy cutting out the pieces!