In our Reading Streets selection for the week we read One Good Turn Deserves Another and another Selection The Lion and the Mouse. Both are folktales. So we decided it was Folktale week. We read a reader's theater of The Little Red Hen. I told the students that in each folktale there is somebody who does something bad and another character who chooses to do something good. And there is always a problem and a solution, and sometimes a moral of the story. Folktales are similar to Fables.
They had to come up with a fun problem that some animal characters might have and one is going to be kind of selfish and mean, and he will get punished somehow in the end. Their job was to come up with a problem, a solution, and a fun setting. Then they had to have one character be selfish and choose to be mean. Another had to be kind and choose the right anyway. So some of their problems had some pretty good consequences.
We have been comparing and contrasting the different types of reading genre's we have been reading in Reading Streets. Then we always try to do a writing project to go along with that genre.
Last year I did a whole unit on The Little Red Hen and we rewrote the story our own way. It was really easy for the kids. The art project was really fun too. But this year I thought we'd try doing our own individual folk tales. It was more challenging but they turned out equally creative.
Our Little Red Hens made from a paper plate.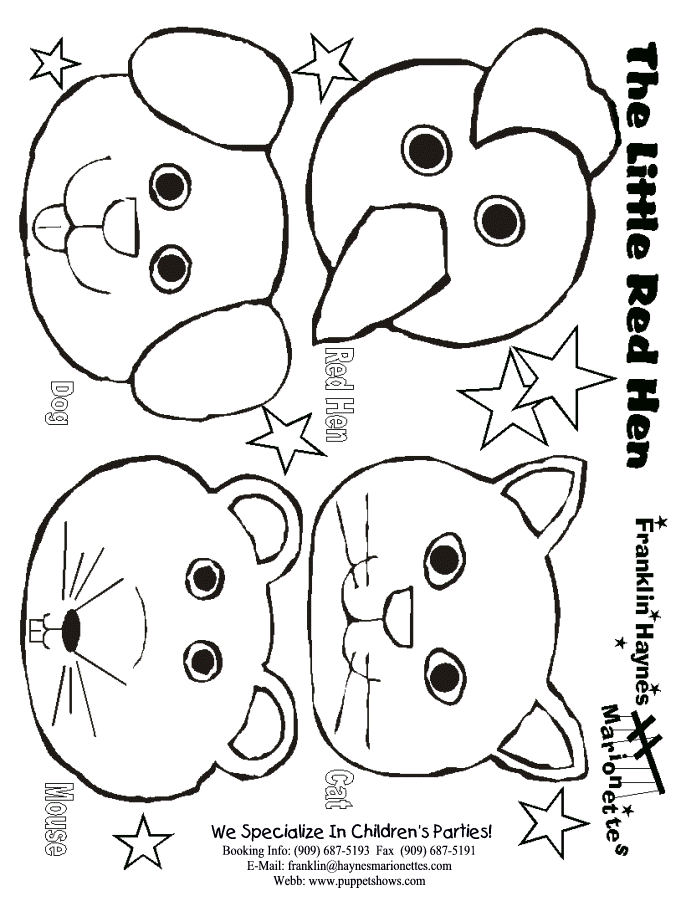 Puppets we made to go with our Little Red Hen readers theater. I just passed out
tongue depressor sticks and the kids colored and glued them on.
This year we decided to use the Reader's Theater of Little Red Hen, (check out lots of readers theaters HERE at Grandview Library) and then we read another called The Gingerbread Girl, and The Gingerbread Baby all together reading parts. Then the following week we rewrote the Gingerbread Man. I'll post those next. They were wonderful!
These Folktales turned out really creative and funny. I was really amazed at how good this year's class are at creative writing. They all are superior readers and I think it makes all the difference. They have read lots of very good literature, and so they can write pretty good as well.
Then we had some pretty good illustrations too. This was a space folktale.
Most of the students chose characters from the animal or insect kingdom…but there were some aliens in the bunch.
I think this was such a great creative writing lesson we did. Each student did a fine job.