AT OUR SCHOOL WE HAVE A SCHOOL WIDE BEHAVIOR PLAN CALLED SOAR.
S stands for SAFE INSIDE AND OUT. O stands for ON TIME AND ON TASK.
A stands for ACCEPT RESPONSIBILITY.








And R stands for RESPECT SELF, OTHERS AND PROPERTY.
I thought of a way to use an art project to get the kids talking about the SOAR RULES and what they really mean…..
First we read a story called "How Do Dinosaurs Go to School". It has lots of dos and don'ts that kids need to have retaught again and again.
Then we made our own speech bubbles and little buses made from egg carton tops to show SCHOOL RULES. We added wheels of black and white construction paper with brads for the metal part. We made stop signs from a yellow pattern block hexagon…. (Easier than trying to make octagons)
Then we had our pictures taken by Brynlin's mom with a yellow paper backing. I kind of had the kids sit like they would in a bus, looking to the right. I copied those off in the computer lab on the color printer 10 on a page (2 x 3 setting) and cut them out.
Then the kids picked pictures from a big pile on the table of their "new" friends to add to their own bus, up to 5 friends each onto a strip of black construction paper. Then we painted the egg cartons yellow and added our "Sunrise School Bus" signs and SOAR signs, the buses and wheels. They turned out fun.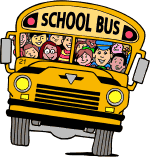 But the best part was the writing activity we did afterwards. This is how they interpreted the rules of school. I thought they came up with some really great thoughts about how to respect things and others and to do their best at being safe and on time and on task at school. We have some really creative kids here don't we?