No nose is good nose.
LIFE CYCLE OF A PUMPKIN VIDEO TO INTRODUCE OUR WEEK'S ACTIVITIES
Life Cycle Youtube.
Our district just adopted the Reading Streets Language Arts program last year. So last year was the first time reading all the literature stories. We didn't realize in October that this book LIFE CYCLE OF A PUMPKIN would end up in order being read in February. Too bad, because it would go better in the fall when pumpkins are everywhere. So this year I switched it up.
Puffy 3D Pumpkin Jack o Lanterns we made along with reading the story Life Cycle of a Pumpkin.
Then we wrote a sequencing retell of the Pumpkin Life Cycle.
HERE are slides to show to start the unit too. Since my art project will have 6 PICTURES for the stages, I like these slides because they go along well for sequencing the stages of a pumpkin life cycle. Also HERE are Life Cycle Picture Cards from Montesorriforeveryone.com. I will put magnets on the back and the pumpkin life cycle at the magnet center for the week. Along with that I have jack o lantern addition magnetic pumpkins I made up last year.
Our Pumpkin seed Life Cycles
On the back is the stages of a pumpkin life cycle.
HERE at Printables A to Z is the cute pumpkin project and printable that I'm using in my classroom so kids can do a pumpkin life cycle in a different, artistic way. Instead of the flat pumpkin I'll do a 3D "puffy" pumpkins from orange butcher paper folded, stapled and stuffed with newspapers.


With white string attaching these little circular life cycle pictures to trail behind the pumpkin, it will be a cute project. Then kids put "Jack-o-lantern" faces on them for a Halloween Bulletin Board for October. I copied these songs off on paper put 2 on a page and gave each student one to glue on the back of their pumpkins. We sang the songs when everyone was done with their art. HERE is the link to the 2 songs sung to Wheels on the Bus.
Some of the 3D puffy pumpkins had eyelashes, and some had mustaches.
3D PUMPKIN ART
I started with about 4 feet of orange butcher paper and folded it in half. Then I cut out 1 foot pumpkins freehand in different shapes with the paper doubled. Then I stapled it all around with about 8 staples in each one just on the edges, but left about 5 inches unstapled at the top for kids to stuff their own with newspapers. Then mom helpers came and did the rest since I have 30 students. We each did about 7 or 8 and it took about 20 minutes. A card game that looked fun I found at TPT HERE and a minibook HERE,
Halloween Jack o Lanterns and Life Cycles of a Pumpkin. I loved the ninja in the middle done by Ivan. Very creative.
I showed the kids these faces up on the document camera and left them up as we did our art. Then I gave them each a 1/4 sheet of black construction paper. They did their own thing for the faces. They turned out pretty cute and unique.
All but 2 of the kids had the whole sequence down perfectly. I liked that they understood the flower dies and what is left is a little green pumpkin bud.
Then the kids came up and "chose" their pumpkin from the "pumpkin patch" which was really my countertop…haha. We had tall skinny ones, short fat ones, wide ones, tiny ones, you name it.
3D Pumpkin Art projects….on the back we glued the songs we sang.
We stuffed them with newpaper balls and stapled around them. Then we put a green "vine" on the top and curled it around our pencils and stapled the "vines" inside the stuffing hole at the top.
Then I gave each child a 1/4 piece of black construction paper (6 inches x 8 inches about). They used this for eyes, nose, mouth, eyebrows, mustaches, whatever they wanted. We even had a "NINJA" faced pumpkin!!
Life Cycle of a Pumpkin art project and sequencing retell. It made a cute Halloween bulletin board.
Life Cycle of a pumpkin – string with the life cycle attached….we taped these to the backs of our pumpkin art.
Hey Jack! Have you seen my nose? I can't smell anything!
Lastly we colored the life cycle circles and attached them folded over onto to a 2 foot piece of string and then taped this string to the back of the pumpkins. We put the seeds on the outermost edge of the string and the small orange pumpkins next to the artsy, big, orange, stuffed pumpkins. . Last thing we did was glue on a real pumpkin seed on top of the paper "seed" circular picture.
This is the other side of our Life Cycle of a pumpkin….the orange pumpkin end is taped to the large 3D orange, puffy pumpkin.
MUSIC we sang these and then glued them on the back of our pumpkins.
Oh, A Plant Needs Lots of Things, (sung to the tune of "She'll Be Comin' Round the Mountain")
Oh, a plant needs lots of things so it can grow.
Oh, a plant needs lots of things so it can grow.
It needs water, seeds, and light,
And some soil that is just right,
Oh, a plant needs lots of things so it can grow.
Oh, a plant needs sunlight and a lot of rain.
Oh, a plant needs sunlight and a lot of rain.
It needs warmth and soil and air,
And it needs gentle care,
Oh, a plant needs sunlight and a lot of rain.
Another song is
HERE at dtlk.
Sing to the tune of Jimmy Crack Corn.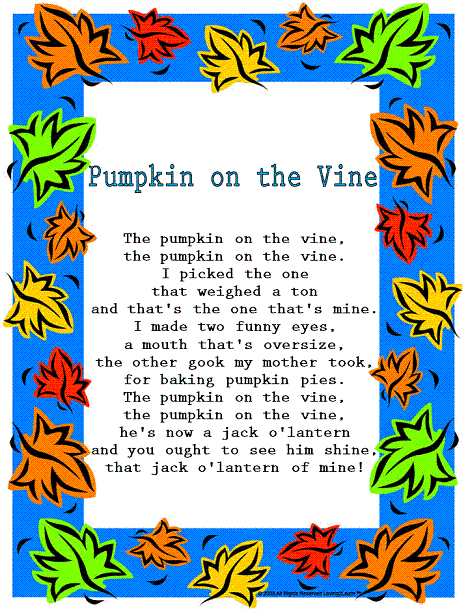 Another song I found HERE at loving2learn you can sing to Row, Row, Row Your Boat.
WRITING
For a writing assignment I had them retell the Life Cycle of a Pumpkin with this stationery from Oceans of First Grade Fun. She had a few other cute worksheets too. I . All but 2 kids out of 30 rewrote the stages perfectly so I think making a lifecycle AND reading about a pumpkin life cycle helped in the background knowledge for writing a sequenced retell. A cute cut and paste you could add too for fast finishers is HERE. A cute one for younger kids I found HERE at TPT HERE are activities and writing papers for life cycles of all sorts. All these are free downloads!! Thanks guys!
Another idea I liked but decided not to use was HERE at First Pallette. It is a cute pumpkin craft that the kids could glue their stages of a pumpkin life cycle to. It makes a cute 3D pumpkin to set on desks.
BOOKS
The Tiny Seed
by Eric Carle
Planting a Rainbow
by Lois Ehlert
Pumpkin Book by Gail Gibbons
Pumpkin, Pumpkin by Jeane Titherington
From Seed to Pumpkin by Wendy Pfeffer
From Seed to Plant by Gail Gibbons
Jack in the Beanstalk by Stephen Kellogg

One of my favorite books that my own children loved was The Tiny Seed by Eric Carle. It goes through the plant cycle in a really fun way that kids will enjoy.
READING other literature on Pumpkins…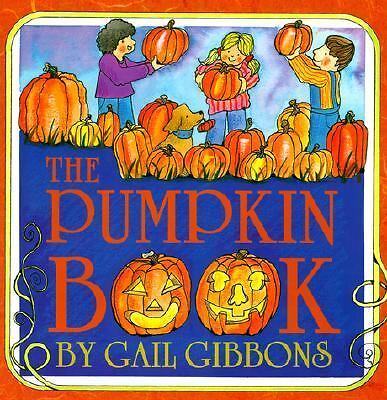 A printable HERE at Preschool Alphabet I used for a minibook I blew up bigger on art paper and the kids colored and cut out the Life Cycle of a Pumpkin. I liked the "vine" vocabulary on it and that it grows a "green" pumpkin after the flower dies off. So I chose this one to use. We also read a few science books on how Pumpkins Grow.
HERE at Scholastic are lists of fun Pumpkin activities for math, science and social studies. It also had a cute poem about 5 little pumpkins sitting on a gate.
SCIENCE EXTENSION: Parts of the PLANT WE EAT.
This is a radish time elapsed video that goes for 2 minutes with some very entertaining music behind it. http://youtu.be/d26AhcKeEbE The roots can be seen through the clear glass container and some aphids show up at the end with a pulled radish root vegetable at the end. I like that I can teach the kids that some are root veggies, some are tree and vine fruits, and some are stem/stalk and leaf veggies. We could make a large anchor chart or poster about which kinds of fruits and veggies fall under each type.
ROOTS WE EAT- potatoes, radishes, carrots, turnips, rutabaga
STEMS WE EAT – rhubarb, celery, asparagus
FLOWERS WE EAT – broccoli, cauliflower, artichokes
LEAVES WE EAT – lettuce, spinach, cabbage,collard greens, mustard greens, chives
SEEDS WE EAT – corn, peas, rice, wheat
A great set of printable worksheets for a lesson on the parts of the plants we eat can be found HERE at Oklahoma 4H. The kids loved the matching activity and there are always some surprised kids when they learn what part the the plant corn and carrots are!
We saved 2 liter bottles and brought them into class. It took us a month to get 31 (enough for everybody!)
Making a Terrarium from a 2 Liter Soda Bottle (clear)
I've never done this before this year but I've always wanted to. So I asked for parents to collect soda bottles the first day of school in my welcome letter. It took a month to get all 30 of them.
2 LITER BOTTLE FUTURE PLANT TERRARIUMS
Then mom helpers and I cut them all in half. We filled them with a little gravel in the bottom of each 2 liter bottle and then 3 inches of potting soil.


Lastly we will plant a few seeds and a tiny piece of ivy from my side yard. (Thanks to the hubs for this service project!!) The kids will put them together and put the lids on after we add some foliage and maybe little plastic frogs. HERE is a link to a tutorial on terrariums. We should be done with them in a few days.
Plant terrariums from 2 liter bottles…they turned out great!
Each child added 2 seeds to their terrariums along with some ivy and succulents and some other clippings from my garden.
We topped them with a little gravel. These terrariums were great to go with the Plant Unit.
MATH
Moffatt Girls at Teacher's Notebook designed 20 fun math games packet that is free and downloadable for FALL! It has scarecrow math games to fall leaf themed dice and domino games, number handwriting and other fun stuff. There is a ROLL A PUMPKIN dice game I added larger numbers to and on the directions I added roll 3 dice and ADD. What a fun mini-unit this turned out to be! Happy Fall ya'll!