Every year I try to come up with a few new ways to teach a word family in a way the students will remember. I did this activity a few years ago and I think it helped solidify the Star Word Family. We made Stars on a Stick!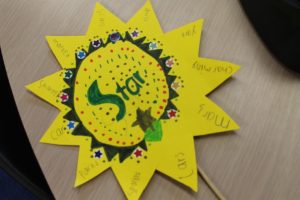 STAR word family "STARS on a STICK" activity.
I designed a cute STAR shape that had lots of points on it. It really looks more like a SUN but isn't the sun actually a star? Yes it is. The reason being that each of the points on the star will become a place to write a "STAR WORD" or word with the "AR" chunk. Then we decorated them with stickers and markers and added wooden skewers taped to the backs.
I started by teaching the students this little story. Mr. A in the Alphabet made a deal with Mr. R. He said "If you let me be in front, I'll let you say your name."
So in every word where Mr. A is in front of Mr. R, you only hear Mr. R's name.
So we call these words STAR words in my classroom. The words with the "AR" chunk or word family.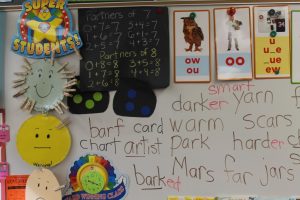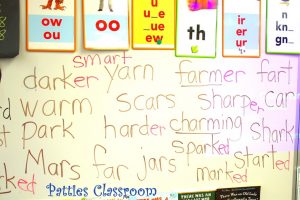 Yes I must admit that we had the word "Fart" mentioned and without batting an eyelid I turned and wrote it down. What was I thinking, really? Of course it ended up on every freaking star!
Then we brainstormed a list of AR or STAR words on the board. I showed the students the pretty poster I made to keep up in the room all year long to remind us of STAR WORDS.
Then we went to work writing our own choice of STAR WORDS and then decorating our stars. Short of breaking out the glitter which I have done some years, we added stickers and lots of cute marker designs. Here are a few cute ones. You KNOW I love my cutsie stuff.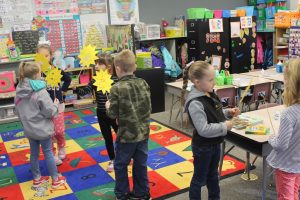 Kids had fun reading their "STARS ON A STICK".
Then came the fun activity. We got into partners and played the "STAR GAME". Which is simply "I read a word to you, then you read a word to me". Do this 3 or 4 times and then I ring a bell. You have to run to a new partner in the room before the bell dings again. Then replay the game with a new partner. They would have played the game for another 10 minutes. They were reading the entire time.
Think of ways to do these kinds of reading activities with harder types of word families like the IGHT words, or DIGRAPH Words. In our class we are using STAR WARS for lots of engagement in reading and writing. Our latest is using CHEWBACCA for the CH digraph practice. I found a fun package of Star War's masks at Target's Dollar section. I also found some free coloring pages with STAR WARS Characters HERE. Here are some masks you can purchase if you want to do what we did. Or you could try the Target dollar spot area. I got mine for $3.00 for 3 masks.
I forgot to take a picture of our Chewbacca brainstorm of words for the digraph "CH". I attached the mask to the brown butcher paper and it has a prominent place on our front board to refer to these words and the word "digraph" which is coming up on our language arts benchmark. I will snap a pic today and add it tonight. It is really cute.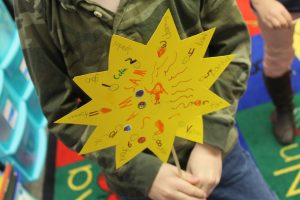 I'm going to find a little miniature CHEWBACCA and we'll have to do him on a stick. haha. Chewbacca on a stick. Priceless!