SCARECROW ART PROJECT FOR KINDERGARTEN KIDDOS.

Scarecrow and Fall Writing for kids.
Scarecrow Art Project for kids.
Last Friday the theme was scarecrows. I have a couple of very cute scarecrow stories we started out reading.
I got this book

The Lonely Scarecrow

last month on Amazon for a great price! It is a darling story.
An overview of why we have scarecrows and what they were used for over 2000 years ago is HERE from abc teach. We did a cute Scarecrow Art Project on Friday after learning why farmers needed scarecrows to scare off crows that ate the crops in their fields.
The Little Scarecrow Boy book.
HERE at Notebooking Nook I got lots of cute writing stationary pages for kindergarteners to practice writing words about FALL. A Burst ofsFirst also had some cute writing papers. And I used this cute Scarecrow Math Roll and Color for math as a fast finisher today. But at Just Wild About Teaching she had 3 really cute writing papers I chose to use for my class bulletin board for November. I always put writing with my art projects on the board.
Fall Writing "I Like Fall Because…" We brainstormed about 12 ideas on the board to scaffold kids' writing in kindergarten.
I loved the smiles on these creative Construction Paper Scarecrows.
I also found a cute Scarecrow Bookmark HERE at First Grade Schoolhouse. Bookmarks are a good motivational tool to get kids to do their best and finish their work in a timely manner. A few more FALL ideas I thought were cute and only a dollar are HERE at TPT. I especially loved the Fall writing paper.
Scarecrow art for kids.
Kids wrote about things they liked about Fall…..
This was another good idea for a prewriting page. I loved the graphics of this one and for kinder it may be enough writing in itself. I like the 4 ways to describe fall. HERE at Educating Everyone for Life is the cute stationary.
Scarecrow Art for Kindergarten
Fall Writing Topic; I Like Fall because….
SOME SONGS TO SING TO GO ALONG WITH SCARECROWS
("Twinkle,Twinkle, Little Star" tune)
Scarecrow, scarecrow turn around.
Scarecrow, scarecrow touch the ground.
Stand up tall and blink your eyes.
Raise your hands up to the sky.
Clap your hands, then tap your knees.
Turn around and tap your feet.
Scarecrow, scarecrow touch your toes.
Scarecrow, scarecrow tap your nose.
Swing your arms so very slow,
Now real fast to scare the crows!
Touch your head, hop up and down.
Now sit down without a sound.
Scarecrow (Tune: I'm a Little Teapot)
I wrote this little ditty!

Another Song to this tune is at I Cool Pages.com
I'm a little scarecrow short and fat
Stuffed together with a big straw hat!
When the crows come 'round
to gobble my corn
I shake and I shout
In the Early Morn!
So Clap and Stomp
and snap and HOP
till (clap) those scarecrows (stomp) all fly(snap) OFF! (hop) fly off!
Fun Scarecrow Art. We should have added a black crow on the scarecrow shoulder lol.

5 Crows All Shiny Black (Tune: 5 Little Speckled Frogs)

5 Crows all shiny black
Sat on a scarecrow's back
Eating the most delicious corn (caw, caw)
Scarecrow winked and shouted "BOO!"
Scared those crows and away they flew!
Now there are 4 black shiny crows (caw caw)

repeat with 3, then 2, then 1, then none.

To go along with this song, I found some very cute scarecrow and black Crow activities that were great for my class at Teaching Heart.net. Scroll down to the "Crow Arts and Games" and there is the above poem/song with a little cut and paste with crows. Check out these songs at HERE. They are cute and free!
I have to add our scarecrow writing to our Scarecrow Bulletin Board.
The BEST part was, I used the 5 crows as a math manipulative after the kids cut them out. We sang "5 crows..now there are 4 etc. and after subtracting 1 crow each time the kids started to get what subtraction is all about. I kept referring to my math pocket chart which has addition, subtraction and take away and total and equal as vocab words for math (so far). You could also use dried black beans as counters for the "black crows". They are very cheap at the market.
We added white circle stickers and wiggly eyes and eyelashes. The shirts would have been cuter using plaid scrapbook paper but I didn't have any. We also added a pipe cleaner bow and stapled it on for a 3D effect.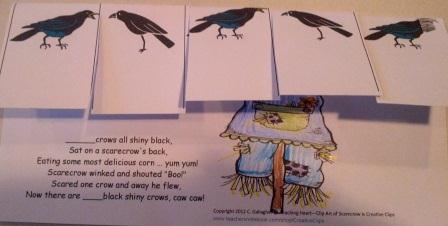 Check out this activity at teaching heart.net link above.
It was a great activity. Then we glued the 5 crows onto the book top in the 5 spots. Super cute! Then they colored the scarecrow. I had the kids add 5-1=4 and 4-1=3 on each of the squares with their pencils. It was cute enough to put up on our math bulletin board. Loved it. Loved the song. Thanks Teaching Heart!
Well I had to include these cute little Scarecrow Cupcakes I made. They hats are orange slices (come in multiflavored packages now) and the hair is from chinese noodles (the crunchy kind). The noses are candy corn of course and M & M or chocolate chip eyes. Happy Fall Y'all!
Check out loads of fun ideas for a fun Family Thanksgiving on my other blog Patties Place. We always have lots of activities planned for the grandkiddos that you might also like!