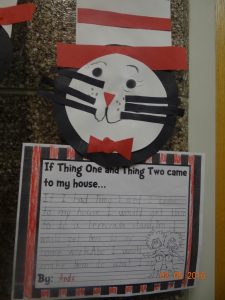 Cat in the Hat Art and Writing Project we did in my classroom.
We had Dr. Seuss Day and made some cute Dr. Seuss Art for First Graders. It was a lot of fun to do Cat in the Hats with whiskers and a striped hat.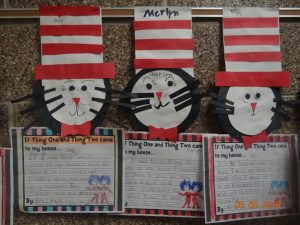 We made Little Dr. Seuss Cat in the Hats after reading the story The Cat in the Hat.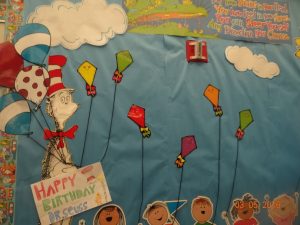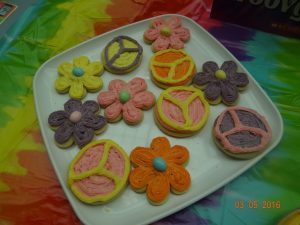 These cute cookies were made by the school librarian to celebrate Reading Across America Day and Dr. Seuss' birthday too.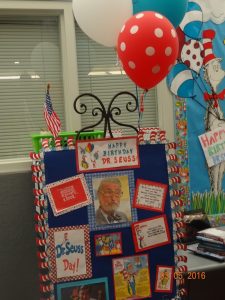 We did an Author's Study about Dr. Seuss whose real name is Theodor Seuss Geisel.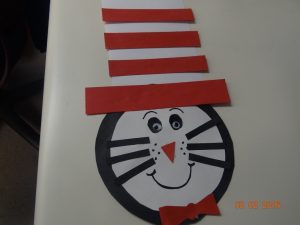 Here's a close up of one of the cats we made. It is made with a black circle, a white circle a bit smaller, a triangle red nose, wiggly eyes, 6 little black whisker strips and a bow tie in addition to a white hat with red stripes and brim a bit larger rectangle.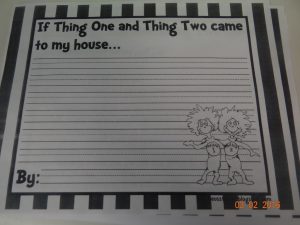 Then I found this cute paper on TPT I really liked this Read the Room freebie HERE and this writing paper HERE at Seusstastic Classroom Inspirations HERE. We used it to write some really funny stories of what we would do if we had Thing 1 and Thing 2 show up at our house.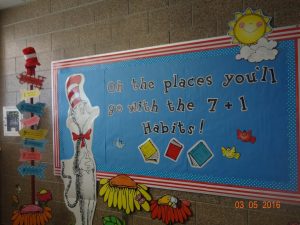 Our school has a yearly theme and this year our principal chose Oh The Places You'll Go, another one of Dr. Seuss' books. She made this cute little road sign in the pot to the left with a Cat in the Hat hat on top of it. It is in our foyer along with this bulletin board.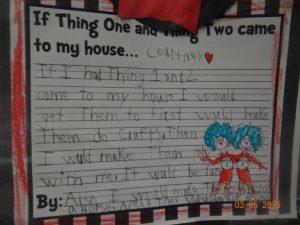 Great first grade writing.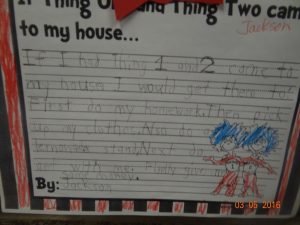 More great first grade writing about Thing 1 and Thing 2.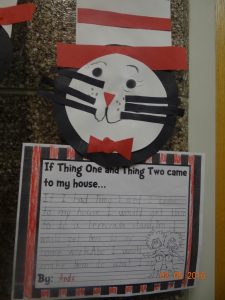 Cat in the Hat day writing.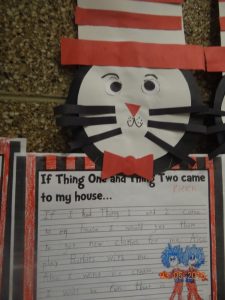 I loved reading everybody's Thing 1 and Thing 2 stories. Then they colored everything red and black and blue. It turned out so cute!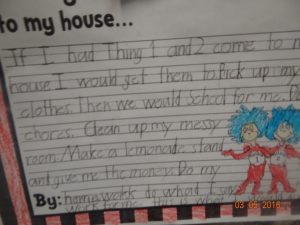 All the kids wanted their chores done by Thing 1 and 2. Go figure. I'd want that too, wouldn't you?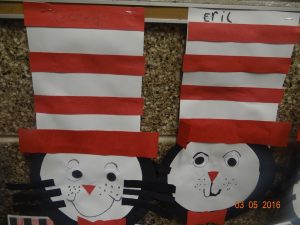 Cute little cats lined the hallways at our school fir Dr. Seuss Day.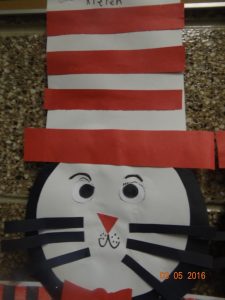 Cute Cat in the Hat art project for first grade. It was really fun. I copied off a sheet of eyeballs and each of the kids cut one set out. I got them HERE at Vector Magz.com.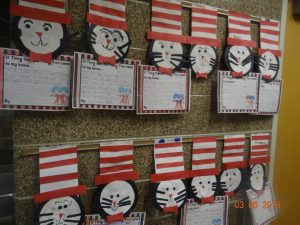 Our Cat in the Hat bulletin board was very cute. There are 27 little cats and hats and stories here. It was a week of work editing and rewriting.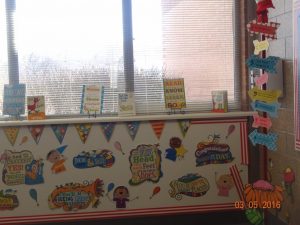 We also made some necklaces out of "Oh the Places You'll Go" tags the principal bought us and I added them to black yarn and went and bought red black and white beads for the kids to bead on either side of them. They made some cute necklaces that I forgot to take a picture of. Bad me.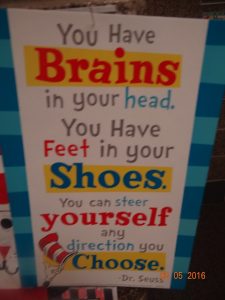 All in all it was a very fun day. Thanks Dr. Seuss for all the good fun that was funny this week.